SB Talee is extremely proud to have won the Silver Prize on the Young Plants category of the AIPH International Grower of the Year 2023 Awards
The AIPH IGOTY award recognizes and celebrates the achievements of exceptional plant growers from around the world. The "Young Plants" category recognizes the best young plants produced in nurseries, highlighting the importance of quality and consistency in the industry.
As a leader in the floriculture industry, SB Talee provides the highest quality plants to customers around the world. As a company we pride ourselves on our innovative growing methods which allow us to produce young plants that are healthy, vigorous, and of the highest standard.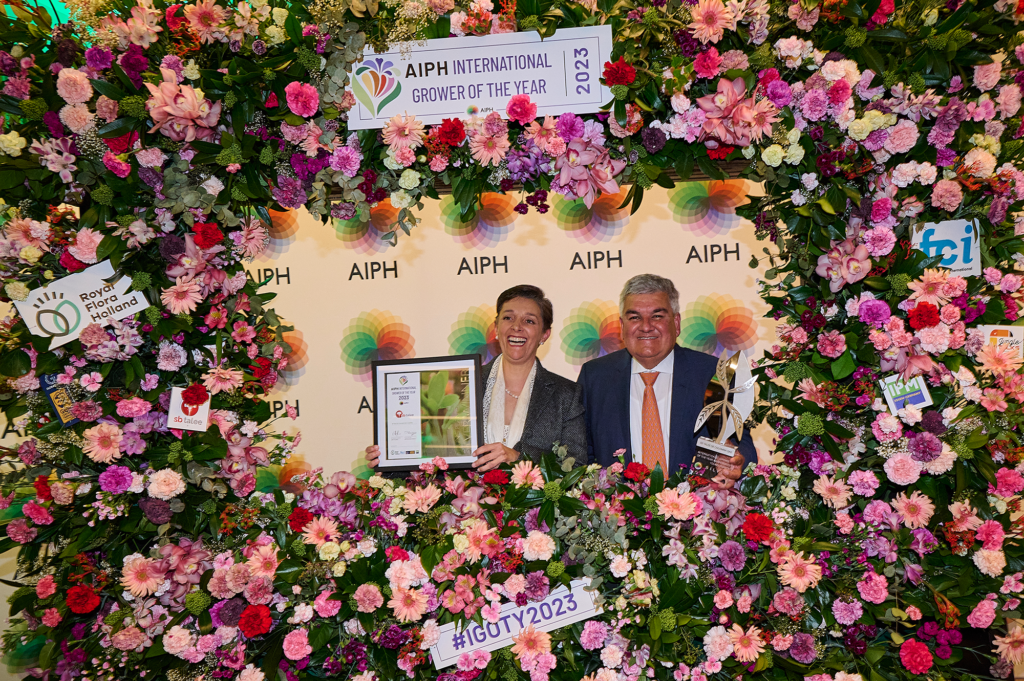 At SB Talee, we are committed to innovation and constantly pushing the boundaries of what is possible in the flower industry. One area in which we have made significant strides is in the breeding of new varieties of the dianthus species. We understand that the demand for new and unique plants is constantly evolving, and we are committed to staying ahead of the curve.
Our dedicated team of breeders have been working tirelessly to develop new and unique varieties of dianthus. Innovation in breeding new varieties of the dianthus species is a process that requires a significant amount of work and commitment. This multi-year process involves selecting, crossbreeding and testing of various plants with desirable traits, such as color, shape, and size, before a new variety is released to the market. The result is a new and improved dianthus variety that is more resilient, disease-resistant, and attractive to consumers.
Receiving a silver medal in this highly competitive category is a significant achievement for SB Talee and demonstrates the company's commitment to producing top-quality young plants. The award is a testimony to the hard work and dedication of the SB Talee team over 60 years.
This achievement is a great honor for SB Talee, and the company is committed to maintaining the high standards that have earned it this recognition. We look forward to continuing to provide top-quality young plants to customers worldwide.

https://aiph.org/event/igoty-2023/
//
Español
SB Talee está muy orgulloso de anunciar que ganamos medalla de plata en la categoría "Young Plants" de los Premios AIPH International Grower of the Year 2023
Los premios AIPH IGOTY reconocen y celebran los logros de los cultivadores de plantas en todo el mundo. La categoría "Young Plants" reconoce las mejores plantas jóvenes y esquejes, destacando la importancia de la calidad y los buenos procesos en la industria.
Como líder del sector de la floricultura, SB Talee proporciona plantas de la más alta calidad a clientes de todo el mundo. Nos enorgullecemos de innovadores métodos de cultivo, que nos permiten producir plantas jóvenes sanas, vigorosas y del más alto nivel.
En SB Talee estamos comprometidos con la innovación y el crecimiento constante, desafiando los límites de lo posible en el sector de las flores. Uno de los ámbitos en los que hemos logrado avances significativos es en la obtención de nuevas variedades de la especie dianthus. Entendemos que la demanda de plantas nuevas y únicas evoluciona constantemente por lo que estamos comprometidos a mantenernos a la vanguardia.
Nuestro dedicado equipo de breeders ha trabajado incansablemente durante 14 años para desarrollar nuevas y únicas variedades de dianthus. La innovación en la obtención de nuevas variedades es un proceso que requiere mucho trabajo y dedicación. Este proceso de varios años implica la selección, el cruce y el ensayo de diversas plantas con rasgos deseables, como el color, la forma y el tamaño, para poder lanzar una nueva variedad al mercado. El resultado de este proceso es un diverso portafolio de variedades de dianthus nuevas y mejoradas, más resistentes a las enfermedades y atractivas para los consumidores.
Recibir una medalla de plata en esta categoría tan competitiva es un gran logro para SB Talee que demuestra el compromiso de la empresa con la producción de plantas madre y esquejes de la máxima calidad. El premio es un testimonio del trabajo duro y la dedicación del equipo de SB Talee a lo largo de 60 años de historia.
Este logro es un gran honor para SB Talee, por lo cual nos comprometemos a mantener los altos estándares por los que nos ganamos este reconocimiento. Esperamos seguir suministrando esquejes y plantas madre de la máxima calidad a clientes en todo el mundo.

https://aiph.org/event/igoty-2023/