¡Bienvenidos al Dianthus Week 2023!
El evento anual reúne a los principales breeders y productores de la familia de Dianthus para presentar las últimas innovaciones en la industria de la floricultura.
¿Qué es el Dianthus?
Dianthus es un género de plantas de la familia Caryophyllaceae que se caracteriza por su diversidad de colores, formas y texturas. Los Dianthus son muy versátiles y se utilizan en una amplia variedad de arreglos florales. Además, son resistentes, duraderos en el florero y pueden viajar y almacenarse bien.
¿Por qué es importante el Dianthus Week para la industría de la floricultura?
Es importante para la industria de la floricultura porque es una oportunidad para mostrar las últimas innovaciones y tendencias en esta familia de flores. Los productores y breeders presentan nuevas variedades que cumplen con los requisitos de calidad, durabilidad y resistencia a enfermedades. Además, el evento permite a los productores conocer las necesidades del mercado y ajustar su producción para satisfacerlas.
SB Talee en el dianthus week 2023
Este año, la empresa SB Talee ha estado preparando una especial selección de nuevas variedades para participar en el Dianthus Week 2023. La compañía ha trabajado arduamente en la selección y desarrollo de nuevas variedades de Dianthus que cumplan con los estándares de calidad del mercado y de la propia empresa.

Entre las innovaciones que trae SB Talee este año, se encuentran nuevas variedades con colores innovadores y una excelente duración en florero.
https://www.flipsnack.com/geofloracatalogue/new-varieties-sbtalee-2023/full-view.html
Además, la empresa ha trabajado en mejorar la calidad, productividad y resistencia a enfermedades de las variedades que se presentarán en está versión del Dianthus Week.
Los esperamos!
Nos complace invitarlos a visitar nuestra vitrina en el Dianthus Week 2023, que se llevará a cabo del 6 al 25 de marzo. Durante el evento, podrán conocer las nuevas variedades de Dianthus y experimentar su belleza y durabilidad. También tendrán la oportunidad de hablar con los expertos de SB Talee para conocer más sobre sus prácticas de producción y cómo trabajan para ofrecer los mejores productos. Recuerda agendar tu visita a la vitrina de variedades contactando a nuestro equipo comercial.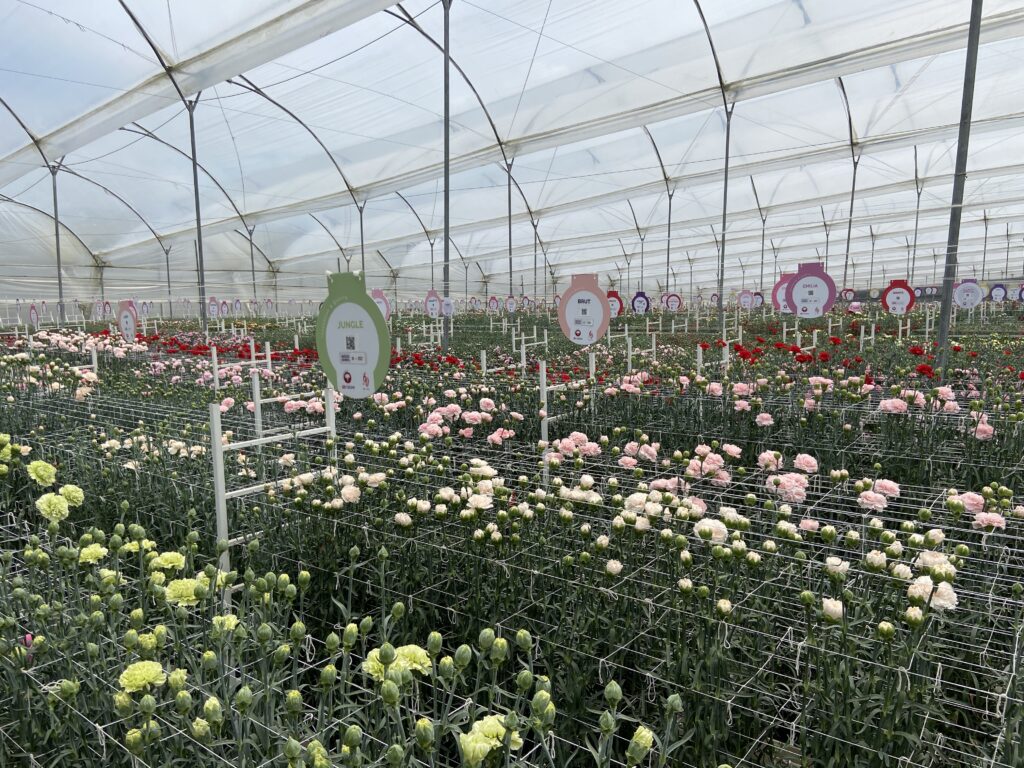 Welcome to Dianthus Week 2023!
The annual event brings together leading breeders and producers in the Dianthus family to showcase the latest innovations in the floriculture industry.
What is Dianthus?
Dianthus is a genus of plants in the family Caryophyllaceae, characterized by their diversity of colors, shapes, and textures. Dianthus are very versatile and used in a wide variety of floral arrangements. Additionally, they are resilient, long-lasting in the vase, and can travel and store well.
Why is Dianthus Week important for the floriculture industry?
It is important for the floriculture industry because it is an opportunity to showcase the latest innovations and trends in this family of flowers. Producers and breeders present new varieties that meet quality, durability, and disease resistance requirements. Furthermore, the event allows producers to understand market needs and adjust their production accordingly.
SB Talee at Dianthus Week 2023
This year, SB Talee has been preparing a special selection of new varieties to participate in Dianthus Week 2023. The company has worked hard on selecting and developing new Dianthus varieties that meet market and company quality standards.
Among the innovations that SB Talee brings this year are new varieties with innovative colors and excellent vase life. Additionally, the company has worked on improving the quality, productivity, and disease resistance of the varieties that will be presented at this version of Dianthus Week.
https://www.flipsnack.com/geofloracatalogue/new-varieties-sbtalee-2023/full-view.html
We invite you to visit our showcase at Dianthus Week 2023, which will be held from March 6th to March 25th. During the event, you can discover the new Dianthus varieties and experience their beauty and durability. You will also have the opportunity to speak with SB Talee experts to learn more about their production practices and how they work to offer the best products. Remember to schedule your visit to the variety showcase by contacting our sales team.