TIn response to the demands of the carnation markets in the world, and within a continuous process aimed at innovation and excellence, SB Talee reaffirms the importance of research and breeding of new varieties. A sophisticated process of selection and refinement gives birth every year to an exquisite offer of shapes, textures, and colors.
More than 3,000 varieties that are kept in the company's genetic bank are carefully reviewed and some of them are chosen as the parental individuals that, through carefully designed crossing programs, will produce about 60,000 seedlings each year.
A meticulous process of evaluation and selection of these codes will give rise after 4 years to the new commercial varieties.
Alstroemeria
In 2017, the company initiated a breeding program in alstroemeria, with the aim of developing competitive varieties in the market. Several codes with very promising characteristics are currently under pre-commercial introduction.
Hydrangea
The company is currently evaluating a series of Hydrangea macrophylla codes in partnership with Mansuino, aimed at the selection of cultivars suitable for production in tropical conditions, with the most innovative types and colors to offer to the world markets.
Agapanthus
Agapanthus africanus codes are being evaluated in partnership with Mansuino, in order to obtain cultivars suitable for use in the bouquet market
Sunflower
Sunflower seed varieties of Italian origin are under pre-commercial evaluation, in alliance with Mansuino.
Helichrysum
In partnership with Mansuino, we are evaluating some varieties of Helychrysum sp.The Paper Moon ® series has varied colors between creams, light and dark yellows and a deep red variety, which is fantastic for use either as a fresh flower or dried flower.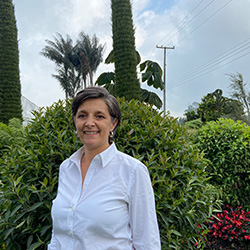 Sandra Medina
Research and Development Director
Diana Noreña
Carnation and Alstroemeria Breeder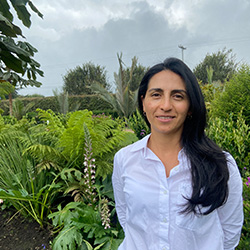 Diana Perez
Carnation and Alstroemeria Research and Development Assistant
Juan David Patarroyo
Diversified Crops Research and Development Assistant